El Médano is situated in the sunny south-eastern part of Tenerife, not far from the Reina Sofia airport.
The beaches in El Médano
The town of El Médano has two fine sand beaches with quite different characteristics.
The best known beach is the large Playa de Leocadio Machado, south-west of the town. A long and wide sand beach, which is a true wind and kite surfers' paradise in Tenerife due to the almost constant wind.
Very close to the town, you'll also find the small, but very charming beach, Playa de el Médano. Maybe the most charming town beach in all of Tenerife. The beach has fine and soft sand, whereas the water is shallow and relatively protected against waves.
At Playa de el Médano, you can rent sun lounges and sunshades, and there are showers and toilets at both beaches.
Between the two beaches mentioned above, there are several smaller areas with sand where you can lie on your towel and swim in the ocean.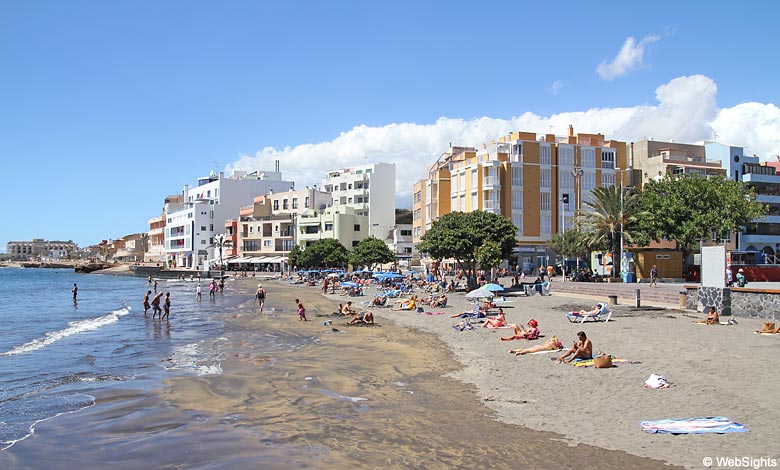 Child friendliness
Playa de el Médano is very child-friendly. Lovely soft sand and shallow water. However, there is not much room to play.
Playa de Leocadio Machado is not very child-friendly. Partly due to the waves and undertow, partly because of the many kite surfers at high speed – also close to land.
Water sports
As mentioned earlier, Playa de Leocadio Machado is the preferred beach among wind and kite surfers in Tenerife. It is possible to rent equipment and receive training at the beach.
Beach restaurants
At the town beach, Playa de el Médano, there are several restaurants and cafés with a view of the beach and the ocean.
El Médano as a holiday resort
El Médano is a medium-sized holiday resort, which has preserved a good deal of its original charm despite of its extension.
With its fine selection of cozy restaurants, cafés and shops, El Médano is popular with families, and then of course surfers because of the nearby surfer beach. There are only a few hotels in town, but Hotel Médano is a lovely hotel offering a central location and close proximity to the beach.
---
El Médano map