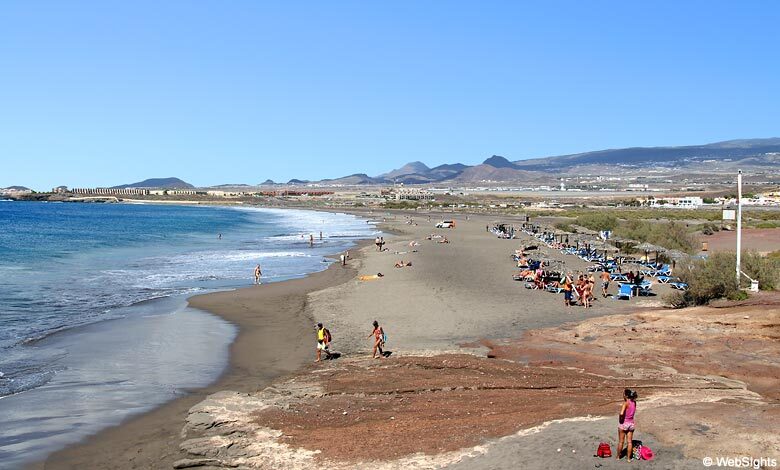 The natural beach Playa de la Tejita is situated on the south coast of Tenerife close to the holiday resort El Médano and the airport, Reina Sofia.
The beach Playa de la Tejita
With its more than 1 km in length and 100 m in width, Playa de la Tejita is the largest sand beach in Tenerife. The nature surrounding the beach is absolutely breathtaking, especially the view of Montaña Roja (the Red Mountain) in the south-east end of the beach.
Most natural beaches in Tenerife have dark lava sand, but at Playa de la Tejita, the sand is relatively bright and fine-grained. However, the beach is very open towards the sea, which means that there are often waves and wind.

There are sun lounges and sunshades in both ends of the beach. The south-east end is very popular among naturists, and Playa de la Tejita is the naturist beach with the most visitors in Tenerife.
The beach is easy to access by car, and there are parking spaces in both ends of the beach.
Child friendliness
The actual beach is very child-friendly with plenty of room to play, but often the waves and the undercurrents in the water are too heavy for smaller children.
Water sports
There are no water sports facilities at the beach.
Beach restaurants
There are no restaurants or cafés at Playa de la Tejita.

Nearby holiday resorts
Playa de la Tejita is located less than two kilometres from El Médano, a medium-sized holiday resort which has preserved some of its original charm.
El Médano has a good selection of hotels, restaurants and shops. This makes the town popular among families, but it is also known as a surfers' paradise.
---
Playa de la Tejita map