The holiday resort Los Gigantes is located on the south-west coast of Tenerife. It constitutes the northern part of the trefoil Los Gigantes, Puerto de Santiago and Playa de la Arena, three holiday resorts that have almost grown into one.
Los Gigantes lies at the foot of the 500 metre high cliffs which have given the town its name.
Los Gigantes beach – Los Guios
The coast of Los Gigantes almost only consists of cliffs, but just north of the big marina, you will find the beach Los Guios.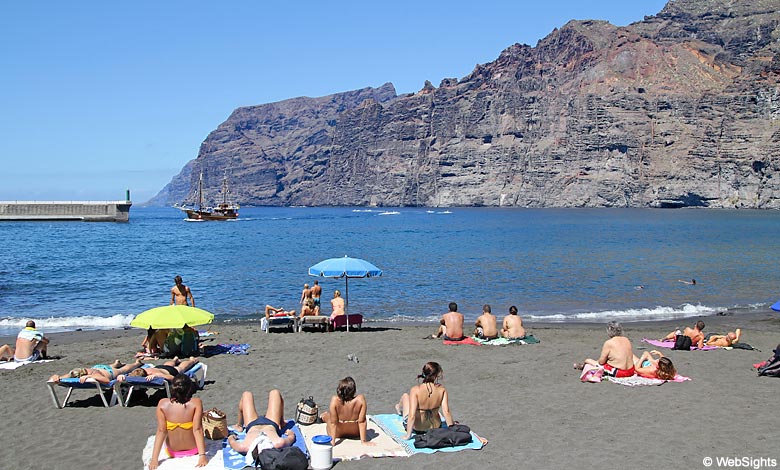 The beach is approx. 100 metres long and has fine-grained, dark lava sand. The water is relatively shallow and the harbour provides good protection against waves. It is possible to rent sun lounges and sunshades, but they are not neatly arranged in rows as it is seen at most other beaches. Other facilities include showers, changing facilities and toilets.
It may be a challenge to find parking spaces in the streets, but it is possible to pay for a parking space near the harbour.
Child-friendliness
With its soft sand and relatively shallow water, the beach in Los Gigantes is fairly child-friendly. When the wind blows in certain directions, the waves may, however, be high.
Water sports
The beach in Los Gigantes does not offer any water sports activities, but the harbour next to the beach does. Here it is possible to rent jet skis, sea kayaks and different boats.
Beach restaurants
On the way to the beach, there are several small, nice restaurants and shops, see the picture to the right.
Los Gigantes holiday resort
Los Gigantes is a charming, nice and relatively quiet holiday resort. With a very few exceptions, the houses are low-built and the cliffs surrounding the town prevent it from growing any further.
The most charming part of the town is the old part with the marina, the town square and the church. Here you will also find a small tourist information office. There are many restaurants in Los Gigantes, and also a good selection of cafés, bars and shops. The nightlife is fairly quiet.
From the harbour, you can go on different boat trips, including fishing trips and whale and dolphin safaris.
---
Los Gigantes map