Playa Paraiso is located on the south-west coast of Tenerife, approximately 8 kilometres north of the busy holiday resort Playa de las Americas.
Playa Paraiso beaches
Playa Paraiso has three small beaches, all located in small rocky bays. The best of the three beaches is called Las Galgas, but is usually referred to as Playa Paraiso. It is located right between the large family-friendly hotels Riu Buena Vista Clubhotel and Roca Nivaria Hotel.
This beach was recently completely renovated and was in this connection supplied with new sand. The sun lounges, sunshades and showers are also new.
The two other beaches have gravel and pebbles. Close to one of them, Playa el Pinque, there is a giant sea water pool called Lago Paraiso (see picture below).
Child-friendliness
The sand on the main beach is fine-grained and there is usually enough room to play. However, the water is not very shallow and there are several stones along the waterline.
Water sports
There are no water sports facilities at the beaches.
Beach restaurants
During the high season, refreshments are sold at the main beach, Las Galgas.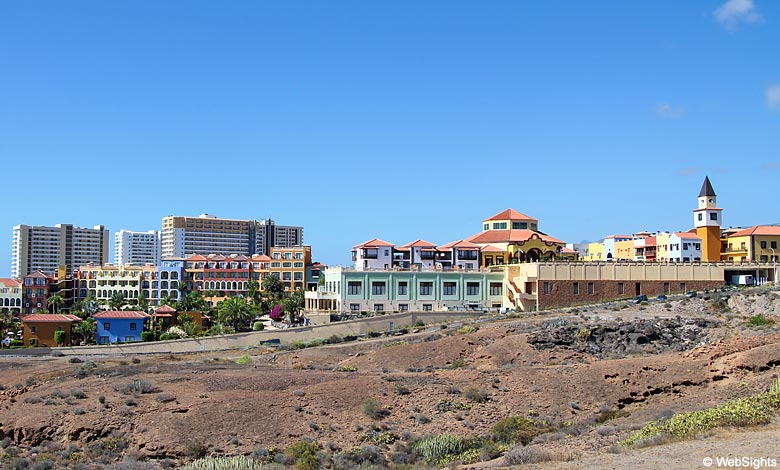 Playa Paraiso holiday resort
Playa Paraiso is a small and relatively quiet holiday resort. There are a number of large and good hotels and plenty of restaurants, bars and small shops in the town. Over the years, several initiatives have been launched, including a renovation of the main street in 2013.
---
Playa Paraiso map
The main beach in Playa Paraiso is the beach in the upper left part of the map. Behind the stone beach to the right, you will find the large sea water pool 'Lago Paraiso'.