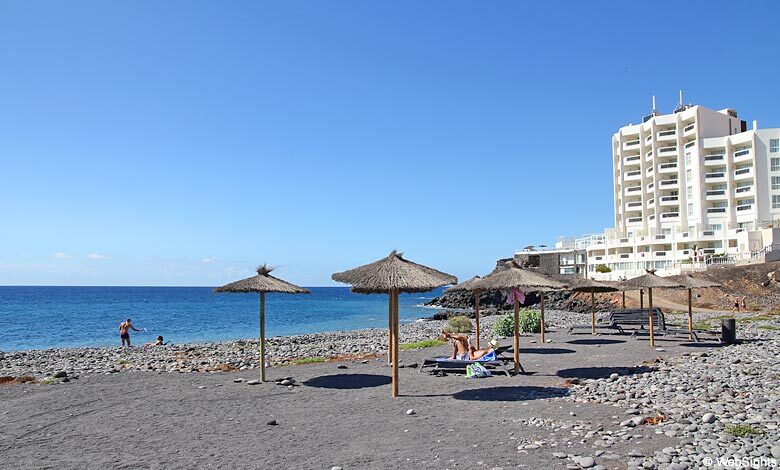 Playa de San Blas is a pebble beach in southern Tenerife, just a few kilometers from the Tenerife Sur Airport. Behind the beach is the large holiday resort of Barceló Tenerife.
The beach in general
Playa de San Blas naturally has stones at the water's edge and coarse lava sand at the back of the beach. However, the authorities have been looking at this and have set up a 50-meter wide area of golden sand on the beach.
In that area there are 15-20 umbrellas with associated sunbeds, but there is also room to lie down on your own beach towels. There are no toilets and no lifeguards on duty.
Parking can be done on the side of the road just before or right after the beach. Pretty much everyone, however, comes walking from the hotel behind the beach.
Child friendliness
For bathing, the beach is not child-friendly, but the golden sand area is fine for building sandcastles and whatever else the children can come up with.
Water sports activities
There are no water sport activities at Playa de San Blas.
Beach restaurants
In the middle of the golden sand area stands a fine beach bar. Here, beach goers can buy cold drinks, ice cream and snacks. However, the beach bar is only open when the beach is well visited.
The town of Los Abrigos
Playa de San Blas is located at the resort of Barceló Tenerife; a huge hotel area with six swimming pools, tennis courts, fitness center, beach volleyball and plenty of other activities. For kids there is a playground and a free children's club. The hotel is popular with golfers as there are three golf courses nearby.
The nearest town is Los Abrigos, a former small fishing village but now a medium-sized coastal town with a fine selection of shops, restaurants and cafes. The town is only 200-300 meters away from the beach, and a small gravelly path leads there.
---
Map of Playa de San Blas – Los Abrigos
Playa de San Blas is located on the left of the map. Just north of the beach is Sandos San Blas, and on the right side of the map is the town of Los Abrigos. Exactly in the middle of the map is the beach Playa Los Abrigos.