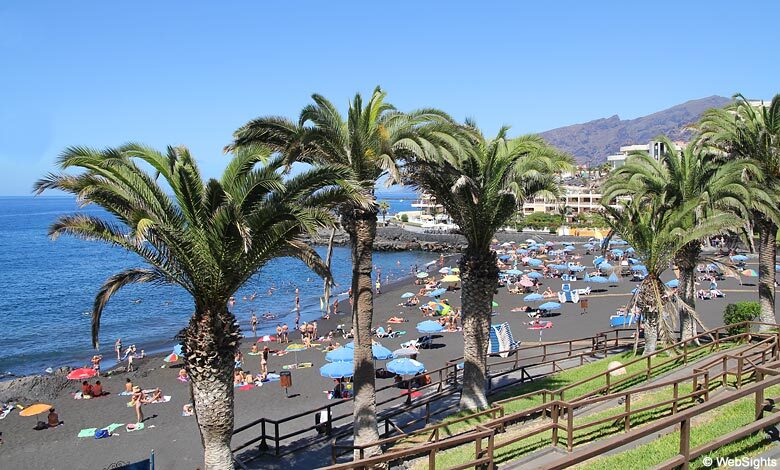 The fast-growing holiday resort, Playa de la Arena, is located on the south-west coast of Tenerife. It is the town farthest to the south of the three holiday resorts, Los Gigantes, Puerto Santiago and Playa de la Arena that have almost grown together.
Our hotel recommendation in the city is Landmar Playa La Arena, which is not only centrally located but also close to the beach. A large hotel with huge pool areas and many activities for both children and adults.
Playa de la Arena beach
With a length of 150 metres and a width of up to 40 metres, Playa de la Arena is somewhat bigger than the beaches in the neighbouring towns.

The beach has very fine-grained, dark lava sand, which is one of Tenerife's characteristics. There is also a fine scene behind the beach where there are palm trees along the short sea front.
The water becomes deep relatively fast and depending on the wind direction, there may be waves. However, there is a lifeguard to protect the bathers.
It is possible to rent sun lounges and sunshades and there are also showers and toilets. The facilities, the clean water and eco-friendliness at the beach has resulted in the award of EU's Blue Flag for several years in a row.

Child-friendliness
The water grows deep a little too fast for young children, but on days without waves, they can easily play alongside the water.
Water sports
During the high season, there are a few activities, such as windsurfing and diving.
Beach restaurants
There is a wide selection of restaurants, cafés and bars behind the beach. Here you will also find a variety of small shops.

Playa de la Arena holiday resort
Playa de la Arena is a charming and relaxed holiday resort, which is perfect for families with younger children and couples of all ages.
Considering the size of Playa de la Arena, the town has many restaurants, cafés and bars. The nightlife is a bit livelier than in the neighbouring towns in the north, but also more relaxed than in Playa de las Americas.
---
Playa de la Arena map
The beach is located in the middle of the map. A little to the north is Puerto de Santiago. A little further south lies the relatively unknown but quite cozy new Alcala.